Summary
Quint Group is an international consultancy and technology company, operating across multiple continents. They support organizations in their digital transformation and provide training for IT and business professionals.
Operating in multiple countries requires Quint to adapt its content to different regions. This involves not only translating the content into the appropriate language but also tailoring the mix of general and region-specific content. With such variation, managing the website in a clear and easy manner becomes a challenge.
A multisite solution with our region plugin enables easy content management across different regions. We developed a website with a custom page builder using our adaptive content block plugin. With these content blocks, the regional content manager can flexibly build and populate pages with content while maintaining branding and design consistency.
Simple centralized and regional content management
Quint supports businesses and governments worldwide in their digital transformation. This support ranges from strategic advice to a wide range of IT-related training. The services and offerings vary by region.
Initially, Quint worked with an off-the-shelf system. They felt caught between two stools. They were large enough for a robust website but too small for an Enterprise CMS. As a result, Quint searched for a partner who could build a scalable international site with a focus on regional markets. For Quint, this means that users are directed to the page for their specific region, with the content they are seeking, in the appropriate language.
Therefore, we collaborated with Quint to enable targeted regional information delivery and conversion. The main goal was to enhance usability for marketing and content managers who grapple with these challenges on a daily basis.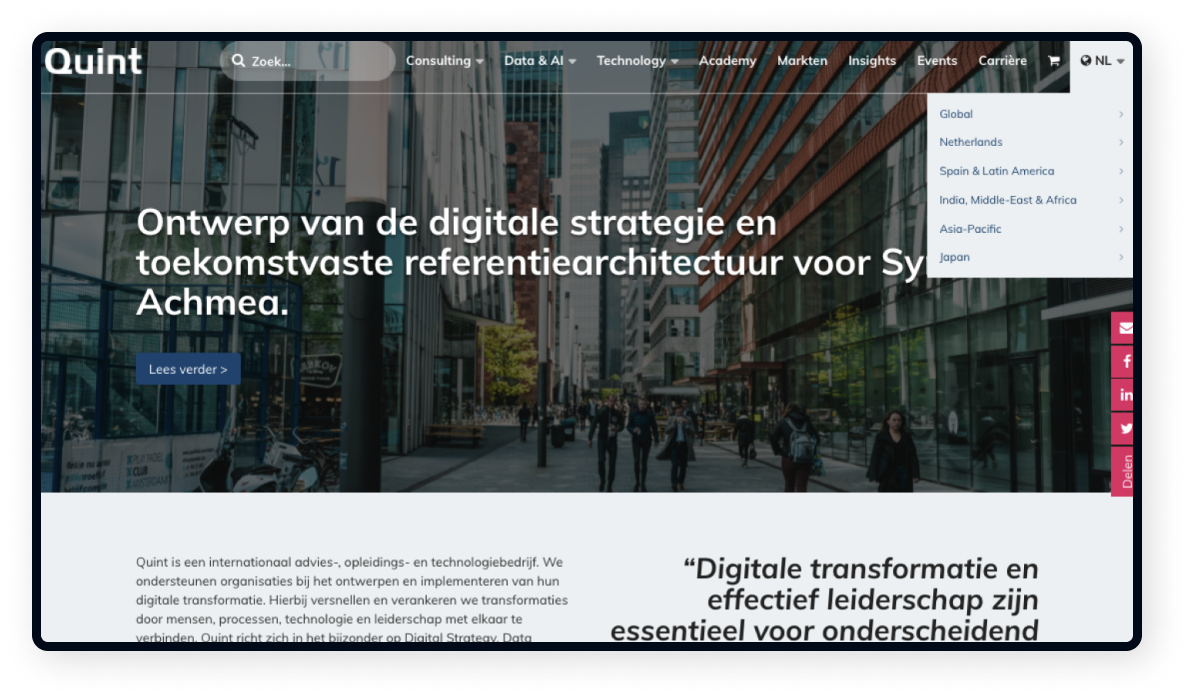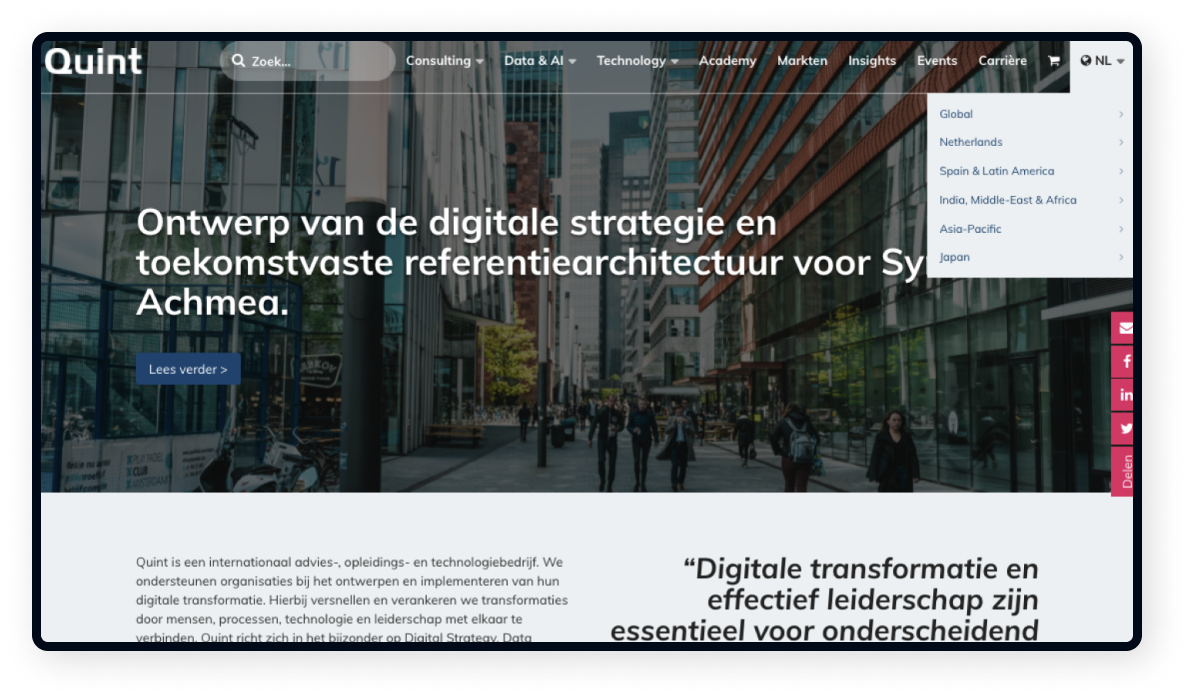 Design Sprint for new insights
To serve the marketing and content managers effectively, we collaborated with Quint to conduct a design sprint to identify the pain points in the process. This yielded valuable insights in a short period, leading to an improved user experience.
The core issue revolved around the varying service offerings in different regions. Each region had to manage its own content, resulting in duplicated efforts as some regions created similar content. Additionally, the regional websites were becoming increasingly dissimilar, leading to an inconsistent overall image.
These insights were instrumental in designing and developing a new solution. We created a multisite platform that leverages our adaptive content blocks and region plugin.
Providing personalized content to global visitors
With our multisite solution, international content management becomes much simpler. Our solution goes beyond a simple translation module and allows for offering personalized content for an optimal customer experience. Discuss the possibilities with our business consultants.
Global ambitions realized through easy content management
With this multisite solution, regional content management has become much easier for content and marketing managers. It is now possible to add a piece of content in the right language to one or multiple regions with just one click. This allows the content to be easily tailored to the regional proposition with maximum SEO value.
Now, each visitor will see content adapted to their location. The website is presented with the services that Quint offers in that region, in their preferred language. This enables Quint to realize its local ambitions. Thanks to the content blocks and region plugin, the usability of the CMS has greatly increased for content managers. Additionally, it ensures a globally consistent appearance of the website.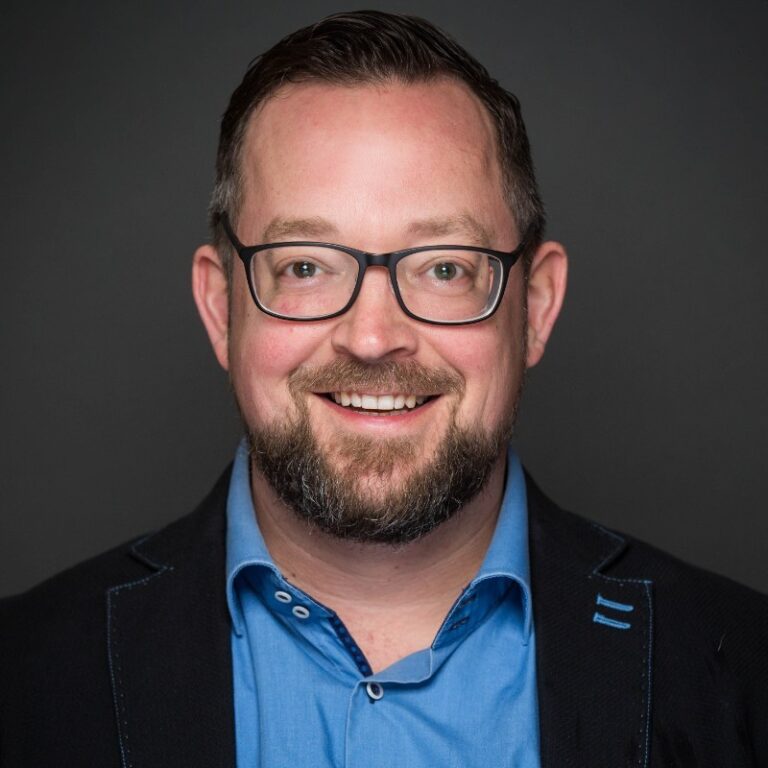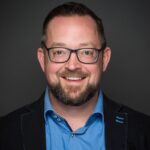 Maximizing SEA and SEO value per country with unique multilingualism per region.
Our region plugin makes clever use of the Advanced Custom Fields and WPML plugins, as well as the extensive capabilities offered by the WordPress framework. This combination allows for optimizing content for each region and target audience within the user-friendly CMS. The region plugin can generate a unique URL for each country and language combination, enabling Quint's marketers to maximize search engine optimization and achieve optimal performance in their SEA campaigns.
We utilized an Odoo integration to import training programs, exams, and certificates into the WooCommerce environment. The same integration, combined with Custom Checkout, automates the processing of bundles, schedules, and registrations, both for individual participants and for groups or departments. Reviews can be added to the portfolio through integration with Feedback Company.
In addition to all the intelligent integrations and connections, we have ensured that this solution has a user experience (UX) interface. The CMS is highly user-friendly and designed to enable content marketers and marketing managers to work faster and more efficiently.
Tech Partners